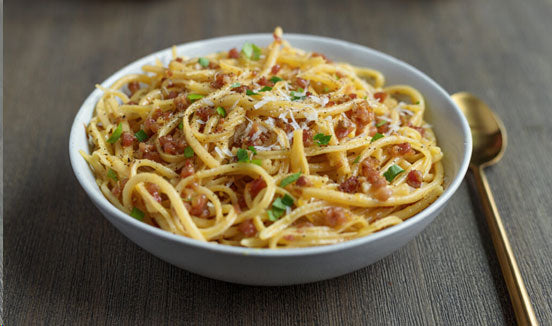 Pasta Carbonara Recipe
By Gradimir Mirkov
Ingredients
450g spaghetti or other pasta
114g Salash pancetta, diced
4 garlic cloves, minced
4 eggs
50g grated pecorino romano cheese
50g grated parmigiano reggiano cheese
salt and freshly ground black pepper to taste
Instructions
Cook the pasta in a large pot of salted boiling water according to the package instructions until al dente. Reserve 240 ml of the pasta cooking water.
In a large skillet, cook the pancetta over medium heat until crispy, about 8-10 minutes. Add the minced garlic and sauté for an additional minute.
In a small bowl, beat together the eggs, Pecorino Romano cheese, and Parmigiano Reggiano cheese.
Drain the cooked pasta and add it to the skillet with the pancetta and garlic. Toss the pasta with the pancetta and garlic until it's well coated.
Remove the skillet from the heat and pour the egg and cheese mixture over the pasta, stirring quickly to coat the pasta evenly. The heat from the pasta will cook the eggs and create a creamy sauce.
---
Referenced products
Quick shop for Smoked Loin Prosciutto