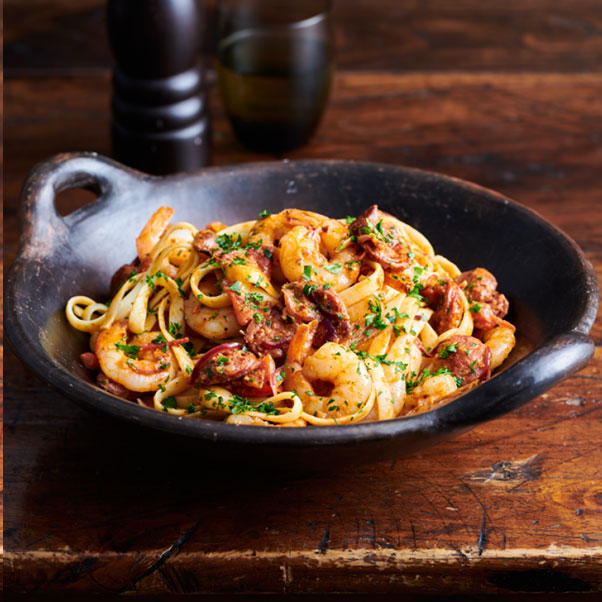 Prawn, Chorizo and Chilli Pasta
Prawn, Chorizo and Chilli Pasta Recipe
By Gradimir Mirkov
Ingredients
2 tablespoons olive oil
8 medium/large raw prawns, with tails on
150g Salash Bachka Chorizo, angle-sliced into rounds
1 small red onion, thinly sliced
180g pasta such as linguine or spaghetti
3-4 cloves of garlic
¼ cup dry white white
½ teaspoon sweet smoked parika
½ teaspoon dried chilli flakes
2 medium tomatoes, diced (12 cocktail tomatoes, halved)
3 heaped tablespoons mascarpone, sour cream or creme fraiche
¼ cup finely chopped parsley
sea salt and ground pepper
Instructions
Heat 1 tablespoon of the oil in a large frying pan and cook the prawns for 1-2 minutes each side until cooked through. Remove the prawns from the pan and set aside.
Add the remaining oil to the pan and cook the onion for 6-7 minutes. Then add Bachka chorizo and over a medium heat cook for 3-4 minutes. Meanwhile, bring a large pot of water to the boil and cook the pasta until only just al dente. Drain, reserving 2 tablespoons of the cooking water.
While the pasta is cooking, add the garlic to the chorizo mixture and cook for 1 minute, then add the wine, paprika and chilli flakes. (Optional items can be added at this stage too). Cook for 3-4 minutes then add the tomatoes and mascarpone and return the prawns to the mixture, stirring to combine.
Add the pasta to the prawn and chorizo mixture, toss gently and cook a further few minutes until everything is heated through. Stir through half of the parsley. If you feel like it needs any more moisture at this point, add the reserved pasta water.
To serve: Season to taste with sea salt, and serve with the remaining parsley and a good grinding of black pepper.
Notes
---
Referenced products
Quick shop for Dry Chorizo - Bachka

Quick shop for Dry Chorizo Biersticks

Quick shop for Fresh Chorizo - Bachka - Cold Smoked